Nowadays, there are several e-liquid flavours on the market. Smokshop give their opinion on strawberry flavours, and below are the five they found to be the best.
Strawberry Flavours E-juices
Space Jam: Galactica
Galactica from Space Jam is a strawberry and champagne flavoured vape. It is made for those classy vapers who like to drink some bubbly now and then. The strawberry flavour of this brand is creamy and the champagne can be tasted as an alcohol overtone on the exhale. Vaper production on this one is great and it comes with a strong hit on the throat.
Element Strawberry
The element is like the Mercedes Benz of vaping. Their e-liquids are considered high-end. The high price of their products is worth every cent though because of their high quality and full flavour. Their strawberry flavour is part of their traditional line and one of their most popular products. If you like strawberry, then you will surely enjoy the full bodied flavour of the strawberry vape from Element.
Vampire Vape Strawberry
Vampire Vape is a British e-liquid company. If you are one of those people who don't like strawberry vapes that are too sweet, then this is the vape for you. This does not mean though their flavour is bland. On the contrary, Vampire Vape strawberry is full of flavour. And one of the best things about this brand of vape is that it is very affordable.
Clutch Vapors: Ace
The Ace brand of vape from Clutch Vapors is a mixture of strawberry and mango flavour but the dominant flavour in this juice is the strawberry. The mango flavour is just there for the overtones.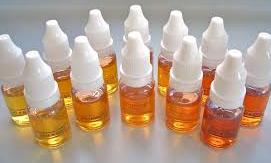 The strawberry flavour of Ace is one of the best that the staff of Smokshop has tried. It is very smooth and it does not come with a heavy throat hit. If you are looking for a strawberry flavoured vape that is as close to the flavour of real strawberries, then this is the brand for you.
Buckshot: Double Tap
Smokshop considers Buckshot: Double Tap as the best of the best when it comes to strawberry-flavoured vapes. This is a dragon fruit and strawberry flavoured vape. Buckshot is known for creating great tasting e-liquids and this one is no exception. You can taste the strawberry with this one and the touch of Dragon Fruit provides a nice addition to the flavour. Smoking this vape is like eating strawberry flavoured candy. It brings the memory of childhood. Double Tap gets the top spot for its strength and flavour.